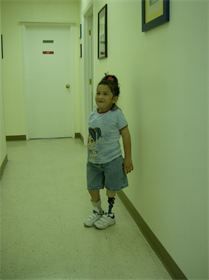 Artificial limbs, or sometimes referred to as prosthetics, are limbs for people who have lost one of their limbs for a number of reasons. Some of the more common reasons why someone might have an artificial limb are: traumatic injuries, cancer, birth defects and circulation problems from atherosclerosis or diabetes.
If you happen to be in this position where you might need an artificial limb, there are some things you should be aware of. You should know that even though artificial limbs will not be anything like a natural limb, it will be able to serve you functions so you can live your daily life.
There are many different parts and looks to artificial limbs. Some of these factors will be depend on your case and what kind of prosthetic you will need. These questions will be answered when you talk to a physician about your situation and see what they recommend for you.
And should not be any worry about artificial limbs not fitting you. These limbs are custom made for you. They are conformed to your body to serve you. If it does happen that the artificial limb does not fit quite right, then we suggest talking to your doctor so the appropriate changes can be made as quick as possible.
The last thing we would like to point out is that it can be somewhat of difficult process to learn how to use them. It will require effort, strength and patience to fully use these limbs. But we would like to note that you are not in this process alone. Your doctor will be there to answer any questions you might have and therapists will be there to aid and guide you throughout the process.
If you have any questions about artificial limbs, visit us here at 3901 Montana Ste. C. Or you can call us at 915.566.3440. Click here to visit our website!